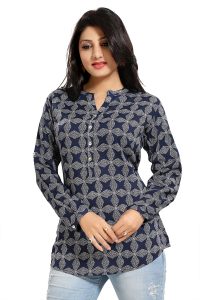 The primary difference between Kurta and Kurti is nothing more than their lengths. Kurta are normally long, typically knee, calf length or ancle length, whereas a Kurti is often short measuring at waist or hip length.

Both Long Kurta and Short Kurti are different types of ladies tops that can be worn with leggings, patialas, jeans, jeggings or plazzo. They were originally designed for functionality, as their loose cotton fit was ideal for the hot and humid climate of India as well as other regions. However, over time various fashions, trends, and styles started to develop, and today they are worn more due to their fashion aesthetics rather than simply for functionality.
There are some that are mid- thigh length as well, and while some classify those as kurta, others classy them as kurtis.
Typically, Women Kurtas were and still are worn with pajamas or churidaars. This has historically been the case and for the same reasons. The pajamas or churidaars also featured loose fitting and wear made from cotton as required by the climate. However, due to westernization and the rise of the jeans, many people often started wearing kurtas with jeans and leggings as well. Kurti, on the other hand, is typically worn with jeans, jeggings or skirts. They are not commonly worn with pajamas or churidaars as their short length does not typically complement them. However, variations in style are often made and it is a personal choice as to wear what.