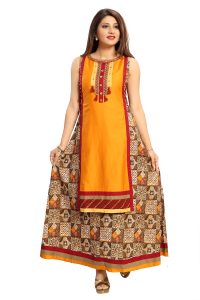 Designer Kurtis or Designer Tunics are a mélange of traditional designs and western values and hence are popular amongst new age women across the world. Sellers prefer stocking Designer Ladies Kurtis for more than one reason.
Designers know that there exists a thin line between what's designer, what's trendy and what's clearly tacky.  Their team creates some best in class fashion ensembles, keeping global tastes and liking in minds.
Kurti Variety: Peep inside a women's mind and you will see a thousand thought bubbles, each one looking for assortments, choices or options in everything they buy. Designer Kurtis are no exception. Women Kurtis have following options:
Exclusive Georgette Kurtis: Women who have the perfect hour glass shape, prefer fabrics that are not stiff and wrap around their bodies naturally. These exclusive Georgette Kurtis are especially designed to give a lift to the curves and give a chic look to the wearer.
Embroidery Tunics: Nothing beats the riches of thread woven in classy designs. It bring contemporary look to modern tunics. Women, who do not like flashy stone or diamond work, can go for these rich looking Embroidery Tunics. They are so versatile that one can choose to wear them on casual as well as party occasions.
Cotton Kurtis: Daily fashion need not be plain, our designers strongly believe. They have put together a range of classic printed Cotton Kurtis that provide comfort for every day wear and yet have some unique ink touches that can make heads turn.
Color: Depending on the design one can get pastel colors like yellow, turquoise, parrot green, pink or a similar palette for women from the west. Women in east prefer more earthy colors and hence they can get brown, black, navy blue, coral green and other such variations as well. Each design has enough color options, making the choice easy.
Pattern: Bell sleeves, elbow length or sleeveless, our Kurti & Tunic collection has it all. The neck patterns also include deep V shape, leaf shape, close stand collar, boat neck and you name it. The tunic length varies from hip covering lengths to knee length to suit the tastes and liking of all women. From simple A lines to umbrella look, the tunic fabric flow is also carefully designed.